One of the best parts of life at Blair is, undeniably, the faculty pets. Students can be seen all throughout the day stopping to pet these beloved animals. We interviewed six of them to learn a little more about them.
First up is Bogey, Mr. Clavel's dog. Bogey's favorite food is used napkins and he loves riding on the golf cart around campus with PC. His favorite spot on campus is the grassy area next to Bogle Hall. Bogey is one of the oldest dogs on campus at 13 years old and is still going strong after 2 ACL replacement surgeries!
Mr. Pagotto's dog, Teagan, loves bacon and chasing ducks around the lake. She is 2 ½ years old and is the only vizsla on campus. Teagan's favorite place on campus is the Siegel property. Mr. Pagotto's favorite memory with her is her first time at school meeting!
Bowdoin is living every student's dream– relaxing by the snack station in Mr. Curran's office all day. She is 3 ½ years old and her favorite food is steak. Her favorite Blair memory is getting belly rubs from students.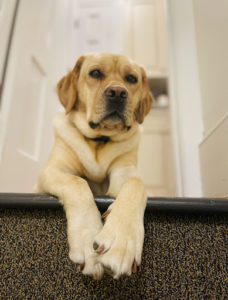 Mr. Trish's rescue is named Miner, short for Minecraft! He loves cheese and anywhere with lots of squirrels. Miner was adopted at 6 weeks and is now 9 years old. A fun fact about Miner is that he has to sleep on the bed because he was too cute to put in a crate when adopted, and got used to it. Miner loves running on trails and barking at delivery drivers.
Mr. Compton has two dogs, Brecken and Finn. They are 7 months old and 1 ½ years old respectively. Their favorite food is kibble and their favorite spots on campus are the main quad or the river by the golf course. Mr. Compton's favorite memory with Brecken and Finn is when he took them to a cabin on a remote island over summer break, where he experienced the "most pure form of dog owning."
(Finn)
Mr. Gerdsen's dog, Ella, is 5 years old and loves grilled cheese. She also loves to steal it off of counters. Mr. Gerdsen's favorite memory with her is watching her chase chickens on his family's farm. Ella's favorite spot on campus is in front of Insley porch, "looking down the hill longingly." She has never been swimming, even though she is a Portuguese water dog!